The Cast
The Actors & Actresses who are listed in the film credits:
JAMES ELLISON

Born James Ellison Smith on May 4, 1910 in Guthrie Center, Iowa. Died Dec.23,1993.
The role of Wesley Rand has James Ellison portraying a tortured, alcoholic and ultimately doomed brother to Tom Conway's Paul Rand. James Ellison received top billing in advertising for Zombie. Ellison's most popular role was probably Buffalo Bill in the Gary Cooper-Jean Arthur film The Plainsman (1937). He made over 63 films in his career, the majority in the Western genre. (back to top)
FRANCES DEE
Born November 26, 1907 in Los Angeles. Was married to Joel McCrea until his death in 1990. They had three sons.
The actress Anna Lee was originally slated for Zombie (she later appeared in Lewton's Bedlam), However, Frances Dee instead took the role of the sympathetic nurse Betsy Connel. She is perhaps best known for her role as Sally in Of Human Bondage (1934).
A short biography is at this Tripod site here. Dee is often mentioned as being a particularly intelligent actress, an inference about actors and actresses in general? (back to top)
(Below) Frances Dee from If I were King, a 1938 film with Ronald Coleman, Basil Rathbone, with a script by Preston Sturges.)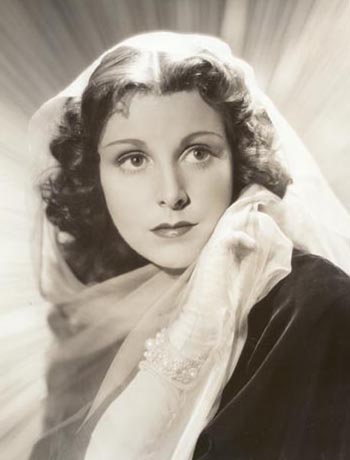 TOM CONWAY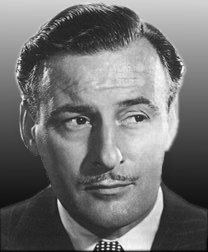 Born September 15, 1904 in St. Petersburg, Russia. Died April 22,1967 in Culver City, California. Sometimes credited as Thomas Charles Sanders II - he is the brother of actor George Sanders. He became "Tom Conway" after losing a coin toss with brother George - they had decided one of them should change their last name in order to prevent confusion on the part of the public. He eventually went on to take over brother George's role as "The Falcon" in the film series of the same name (in the film "The Falcon's Brother" the Falcon character is killed, turning his role over to his brother in the film, also named Tom!)
In two Lewton films (The Cat People and Seventh Victim) Conway played Dr. Judd. In Zombie he portrayed the stoic Paul Rand, who may or may not have (depending on your point of view) driven his wife Jessica Rand into her catatonic state. (back to top)
CHRISTINE GORDAN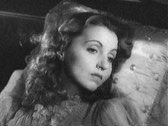 This European actress appears throughout this film, but has no speaking parts at all. She also appeared in the film Mission To Moscow (1943) Directed by Michael Curtiz.
EDITH BARRETT

Born 1907, Roxbury, MA. Died February 22, 1977. Besides playing the mother of the Rand brothers in Zombie, Edith Barrett went on to also play Ms. Fairfax in 1944's Jane Eyre - the book Zombie is basically adapted from. Edith Barrett also appeared in Lewton's The Ghost Ship (1943.) She was married to Vincent Price. (back to top)
THERESA HARRIS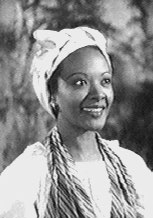 Theresa Harris also appeared in Tourneur's Out Of The Past (1947). She also appeared in Lewton's Cat People (1942) as Minnie. (back to top)
JAMES BELL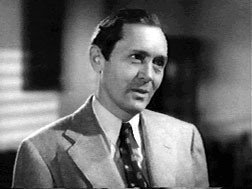 Born December 1, 1891. Died Oct. 26, 1973. Bell also appeared in Lewton's The Leopard Man as Doctor Galbraith. Bell made a large number of Westerns and also appeared in numerous television programs. Other films he worked on include the Irving Berlin-Fred Astaire-Bing Crosby Holiday Inn (1942) and the Paul Muni crime film I Am A Fugitive From A Chain Gang (1932). (back to top)
DARBY JONES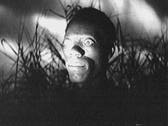 Darby Jones first appeared in film with Tarzan The Fearless (1933). His last film was White Goddess (1953). He also appeared in the Lewtonesque parody film Zombies on Broadway (1945), reprising his role as the zombie Carrefour.(back to top)
SIR LANCELOT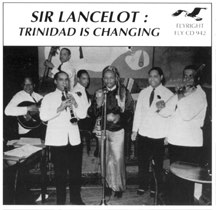 (Above) Lancelot appears next to the violinist in this cover to a collection of his 1940s-50s calypso music put out by Flyright (FLY CD 942)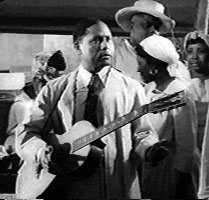 Sir Lancelot, born Lancelot Victor Edward Pinard in 1903 on the island of Trinidad. Sent to New Tork City to study medicine after completing parochial school training on Trinidad, Lancelot took up calypso music there, having a classical music trained background - but a love for calypso, which was looked down upon by the social strata he come from on Trinidad. Touring in California, Lancelot so enjoyed the area he stayed, and became involved in films, eventually appearing in To Have and Have Not (1944) and at least 8 others, including Lewton's Zombie and Ghost Ship. (back to top)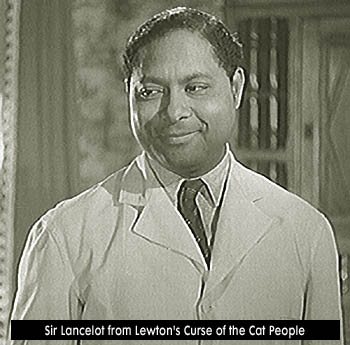 JENI Le GON
Born 1916 in Chicago. Jeni Le Gon trained at the Mary Bruce dance school and worked in chorus lines and vaudville until taking up a career in film with the 1935 Hooray for Love. She also appeared in the Cab Calloway production Hi-de-ho. Her film Double Deal is mentioned and can be purchased at this site here. (back to top)