Val Lewton.org
Lancelot Victor Edward Pinard
Frequent Cast Member in Lewton films
Born May 24, 1903 in Trinidad.
Died March 12, 2001 in Anaheim, California.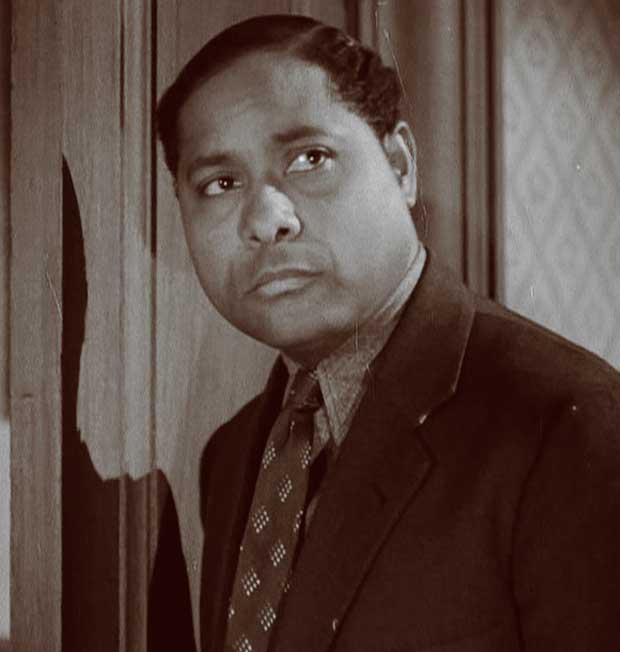 Sir Lancelot Pinard
(Above: Lancelot as Edward, from Lewton's Curse of the Cat People)
Filmography
(This list based on the IMDB filmography)
The Buccaneer (1958)
The Unknown Terror (1957)
Romance on the High Seas (1948)
Brute Force (1947)
Linda, Be Good (1947)
Zombies on Broadway (1945)
Curse of the Cat People, The (1944)
To Have and Have Not (1944)
Ghost Ship, The (1943)
Happy Go Lucky (1943)
I Walked with a Zombie (1943)
"Andy Griffith Show" playing "Man" in episode: "Howard's New Life" (episode # 8.15) 12/18/1967
"Sir Lancelot, another actor with a small but distinctive Mayberry role, passed away on March 12 in Anaheim, Calif., at the age of 97. Sir Lancelot, whose full name was Lancelot Victor Pinard, played the man who rented the cottage to Howard Sprague in Episode 235: 'Howard's New Life.'" (From the "Andy Griffith Show Rerun Watchers Club Bulletin"
Music Recordings
(Below) Recordings on CD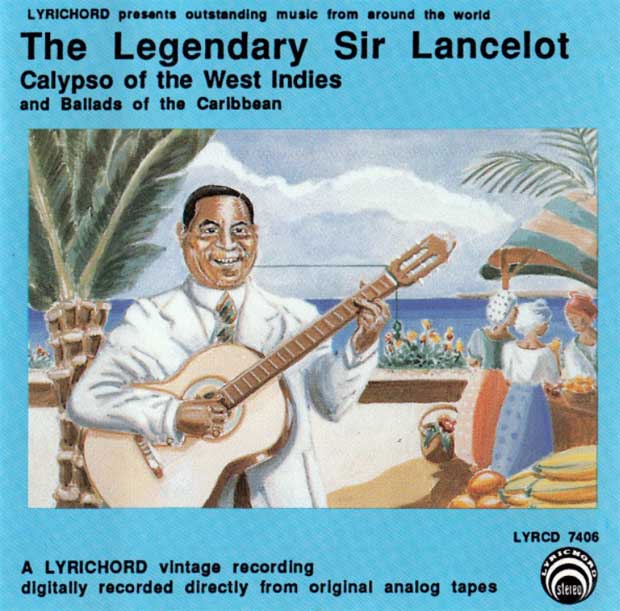 The Legendary Sir Lancelot
Calypso of the West Indies and ballads of the Caribbean.
Alt title Calypso of the West Indies and ballads of the Caribbean.
AMAZON: The Legendary Sir Lancelot: Calypso of the West Indies and Ballads of the Caribbean
Publisher # LLCT7406 Lyrichord
Song List:
La ola Marina (2:16)
Oken karange (2:40)
Jamaica farewell (3:15)
Linstead market (1:45)
Tie tongue mopsey (3:05)
La mukura (2:06)
Mary Ann (3:26)
Stone cold dead in the market (2:13)
Ninon (2:12)
Jump in the line (2:27)
Run Joe (2:23)
Matilda (2:24)
Double indemnity (4:42)
Ugly woman (2:43).
---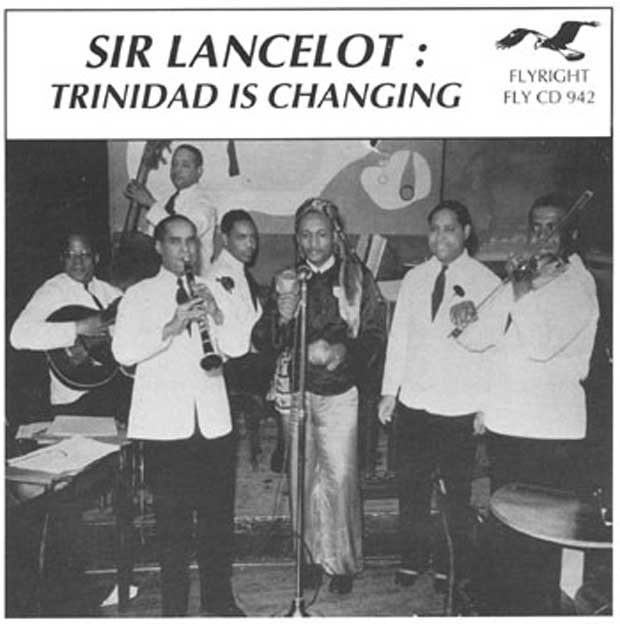 Sir Lancelot: Trinidad is Changing
Flyright FLY CD 942
1995 Interstte Music Ltd.
AMAZON: Trinidad Is Changing
The Flyright disk includes liner notes by Ray Funk.
Song List:
The Century of the Common Man (3:08)
Trinidad is Changing (2:59)
Donkey City (3:09)
Neighbor Neighbor Leave Me Door (3:00)
A Night in Central Park (3:11)
Ugly Woman (3:04)
Scandal in the Family (3:06)
The Young Girls Today (3:13)
Oken Karange (2:53)
Sweet Like A Honey Bee (2:51)
Pan American Way (3:06)
Gimme Crab and Callaloo (2:56)
Mary Ann (3:04)
Take Me Take Me (To San Pedro) 2:59)
Matilda (2:53)
West Indian Families (2:37)
---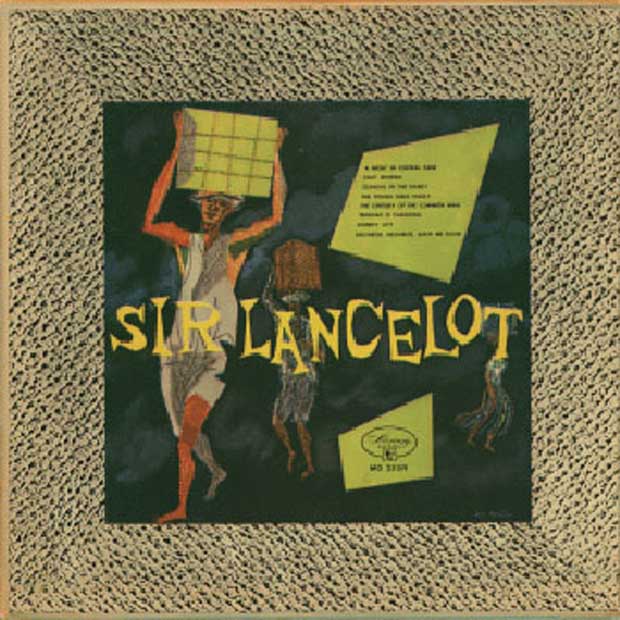 Sir Lancelot
Mercury MG-25159: Sir Lancelot (Calypso) [Vinyl]
Song list:
SIDE-A
A-1 4945 A Night In Central Park
A-2 4946 Ugly Woman
A-3 4947 Scandal In The Family
A-4 4948 The Young Girls Today
SIDE-B
B-1 4949 The Centry Of The Common Man
B-2 4950 Trinidad Is Changing
B-3 4951 Donkey City
B-4 4952 Neighbor, Neighbor, Leave Me Door
Note: The album cover is courtesy of Kohji Matsubayashi & the Mercury Microgroove collection (the website is http://microgroove.jp/). I asked about the release date on this vinyl record, and this is what 'Shaolin' Kohji said:
Could you tell me the year the Lancelot album was issued?
"I have a comprehensive 5 volume set of "Mercury Discography" by Ruppli. Even the Ruppli book don't mention the release date :( Anyway, all titles are originally recorded for Keynote label in the early 1940s (Ruppli book don't have recorded date either). Keynote label was bought by Mercury circa 1948. I believe the materials were firstly issued as Mercury A-46 (three 78rpm album set) in the late 1940s. I don't have this copy. As for the MG-25159 10-inch LP we are talking about, I believe it was released circa 1954, judging from other Mercury 10-inch titles' recorded/released date around MG-25150 thru 25160."
"Sorry, the release date might be 1952 or 1953, not 1954. I investigated from another point of view - master numbers for each title. Their numbers (on the Mercury label, not Keynote label) are from 4945 to 4952. All other titles around 4945-4952 were recorded in 1952. So the release date might be 1952, but it's highly probable that it was released in the next year 1953. And yet another viewpoint - imprints on the label. You may see the "Reeves-Fairchild Thermodynamic Margin Control" printed on the MG-25159 label. This phrase was commonly seen on the platters issued in 1951-1952."
---
WWW Links for Sir Lancelot
[Note: as this list goes back to 1998 and many of the pages have vanished or have gone in (and out) of accessibility on the WWW, they are all included here with their addresses in case at some later date the missing Sir Lancelot pages come back online, and also as a simple archive record that they existed]
The vinyl record of Sir Lancelot (shown above) is from the Mercury Records Collection site here.
Ted Strong's page http://www.tedstrong.com/ sirlancelot.html [site not active - checked Sept 2018]
A page on "Calypso on Film" mentioning Lancelot is http://www.nalis.gov.tt/calypsonians/ calypsomusic-CALYPSOonFILM.htm - [page no longer active - checked Sept 2018]
An article on Ray Funk, who discuses Lancelot http://209.94.197.2/ feb99/feb21/features.htm - site not active - checked Sept 2018]
A brief review of the music CD "The Legendary Sir Lancelot" is http://www.skywriting.com/Lyrichord/ world/cdr.html [site not active - checked Sept 2018]
Musical Traditions Records has a site which covers calypso and mentions Sir Lancelot in a few places. The recording site is here and the Musical Traditions Internet Magazine site is here.
Sir Lancelot at Zero Sounds Blogspot
"...Sir Lancelot's singing appearances on radio and television, on shows hosted by Ray Anthony, Ed Sullivan, and Dinah Shore (where he sang the praises of sponsors Ford, Elgin watches, Coca-Cola, and Borden's Milk, and often got more fan mail than Shore herself) planted the seeds of the calypso boom that led the way to Belafonte's rise to fame at the end of the '50s. In 1955, he left the United States for an extended tour of Europe and the Middle East, but returned to Hollywood three years later to appear in "The Buccaneer", a big-budget widescreen historical drama starring Yul Brynner and directed by Anthony Quinn."
Wikipedia page on Sir Lancelot
Sir Lancelot Grave Site "The King of Calypso" (image of tombstone)
---
(Below) Obituary from Los Angeles Times
Lancelot Pinard; Musician Brought Calypso to U.S.
From Times Staff and Wire Reports
Link: LOS ANGELES TIMES
"Born in Cumuto, Trinidad, to well-to-do Anglophile parents, Pinard was educated in the West Indies and trained to be a pharmacist. He moved to New York City to pursue a medical career but switched to music after hearing a concert by a tenor named Roland Hayes. In an interview with The Times some years ago, Pinard recalled how he made the switch from classical music, which first captured his attention, to calypso.
"This orchestra leader from Trinidad who had a nice band in New York heard one of my concerts and said, 'Would you condescend to record a couple of calypsos for me?' " Pinard said. "This is the music of my country," Pinard replied. "I'd be proud to do it."
---
Youtbe - Sir Lancelot "Scandal in the Family" aka "Fort Collins Calypso"
---